Gathering for Global Peace
by Tiffany Tomaszewski
Imagine a gathering of 100,000 people meditating. Let's put it in perspective for a moment. The census population of Santa Monica in 2010 was 89,736 and in 2009, U2 performed at the Rose Bowl for a record-breaking sellout crowd of 97,014 people. In Mexico City in November 2015, Dr Joseph Michael Levry and the Naam Yoga community facilitated the fifth annual Superclass for Global Peace.
An estimated 100,000 people practiced yoga and meditation in person along the major thoroughfare Reforma Ave near the Angel of Independence monument, while thousands more participated online from 97 countries around the world. "When we meditate with hundreds of thousands of people at the same time we generate a magnitude of high pranic energy that can affect the minds and hearts of everyone. We positively change our molecular vibration and raise our frequency to new heights of compassion and tolerance. Through the principle of resonance, the lowest vibrations in a group naturally attune to the highest vibrations, thus we are collectively transformed," says member of the Naam Yoga nonprofit organization.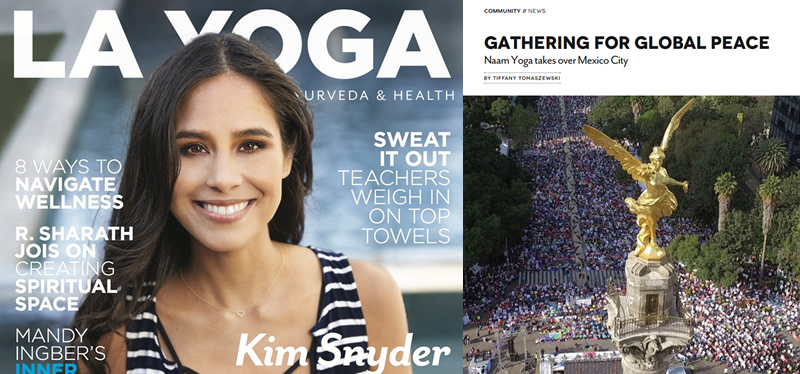 The Superclass offered an opportunity for people to experience the signature Naam Yoga practice that incorporates sound, movement, and breathing in sequences designed to positively affect the flow of energy in the body. "It doesn't matter what language you speak or what your religion is, at the Superclass prayers and meditations are performed from many backgrounds and in many languages. Everyone can feel at home; it is a beautiful reflection of unity and universality," asserts another participant.
The purpose of this epic gathering: to promote peace. NAAM Yoga founder Dr. Joseph Michael Levy says, "It has never been more important than it is right now for the world to envision peace and create it." Planning is underway for the sixth annual event (you too can get involved) and there are numerous opportunities to lay down your mat for Superclass sessions at the studio in Santa Monica. Stay tuned for the sixth annual Superclass for Global Peace.